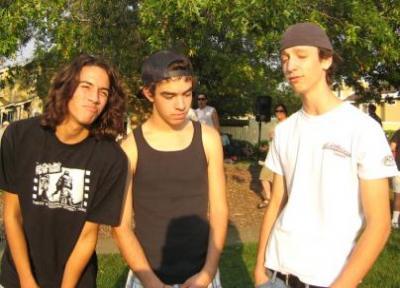 Members
Nick Tara
Guitar & Vocals
Daniel Merango
Bass & Vocals
Shaughnessy Starr
Drums & Vocals
Olaf Selland
Guitar

The Flying High
City: Novato
Country: United States


Promote The Flying High
Paste this html code anywhere that supports HTML

Promote The Flying High
(MYSPACE Comments and Bulletins ONLY) Html:

(Myspace Profile, Blogs and Websites) Html:



Artist Information
We are The Flying High. I am Nick Tara, the singer and guitarist. I have been in a few local bands in Novato but currently am only in this band and my MSA rock band. I am the primary writer for the band. The bassist is Daniel Marengo, who is also in a band from Novato, CA called Ash's Fall. He is a great bassist and is a great guy for me to jam with and experiment music-wise. The drummer is Shaugnessy Starr, a man of few words and much drumming. An addition we aquired a few months after starting is Olaf Selland. He plays guitar. With us four, and plenty of guest performers in mind, we have a long road ahead for rocking good times! -Nick Tara


Shows
September 26, 2007
Novato Farmer's Market
We are playing in the street! Come enjoy the music and festivities!
Read More

November 5, 2007
Finnegan's Pub
Come to the Finnegan's Pub and check us out because we are the featured artist! Thanks so much! Finnegan's is located around the corner from the Novato Police Department and its also close to the candy store.
Read More




News
No news listed


Influences
Red Hot Chili Peppers, The Beatles, B.B. King, John Lennon, Bob Dylan, 2Pac, NOFX, Ted Nugent, Rage Against the Machine, Ray Charles, Kid Rock, Stevie Ray Vaughan, Jimi Hendrix, Bruce Springsteen, Bob Seger, The Casualties, The Misfits, Jerry Lee Lewis, Frank Zappa, Sublime, R.E.M. and many others.


Other Information