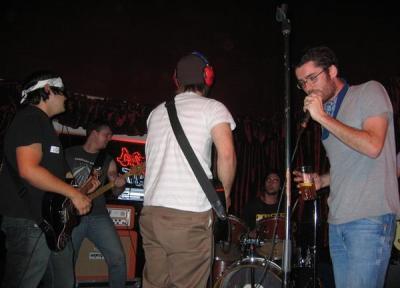 Members
A. Jones
Rey Corpuz
Adam Taniguchi
Lexie Corfiatis
Josh Williams
Michael Warren
JD Uhls
Chris Spratlen
Justin Downes
Chris Woodhead
Tj Lemieux
Josh Young

Links
Los Olvidados
City:
Country: USA


Promote Los Olvidados
Paste this html code anywhere that supports HTML

Promote Los Olvidados
(MYSPACE Comments and Bulletins ONLY) Html:

(Myspace Profile, Blogs and Websites) Html:



Artist Information
two young boys sat in grass with their fellow little league-ers during baseball tryouts one spring day. one sat quietly, while the other rapped "u-n-i-t-y" by queen latifah. flash forward about ten years. two film students were bored after their old band faded out. the quiet one wrote a few songs and asked the other to help flesh them out with some of the latifah flavor we all once knew. the two began rehearsing and playing shows and (unwisely?) stole their name from a bunuel film knowing it would confuse a few and most likely be unpronounceable to most. they are not the forgotten.


Shows
No shows listed


News
No news listed


Influences
wilco, luis bunuel, elliott smith, big star, cat power, waxwing, paul westerberg, neil young & crazy horse, wu tang, bonnie prince billy, eroll morris, ryan adams, tom petty & the heartbreakers, adventures, r.e.m., songs: ohia, bob dylan, lucero, the band, nas, rolling stones, pink floyd, townes van zandt, gram parsons


Other Information